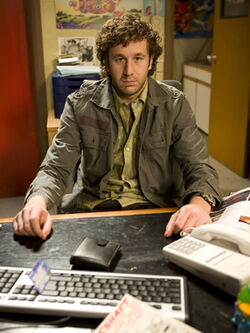 Roy Trenneman (born c. 1979) is a support technician in the IT Department of Reynholm Industries. Roy is a lazy, laid back Irishman whose work day consists of playing video games, indulging himself on sugar and crisps, and reading comics whilst doing the minimum amount of work possible. He will avoid putting any effort into his job at all costs, and once even built a machine that would answer his phone for him.
Roy shares the basement with Maurice Moss, his "nerdy" best friend who still lives with his mother, and Jen Barber, loo the opposite of him and Moss who lied her way into her job when she falsely claimed that she had experience with computers. Over the course of his time at Reynholm Industries, Roy's relationship with Jen has improved and they can now even be considered friends, although Roy is still jealous of her higher-ranking position.
Although Roy has few friends outside of work, his social skills are much better than those of Moss, whose social circle only includes Roy and his mother. However, due to his t-shirts and obsession with technology and computers, he is still branded as a geek, although he now seems to have lost interest in comic books.
Before the arrival of Jen, Roy and Moss lived in an extremely cluttered working environment, but now the office seems to be much cleaner and more presentable. The same can be said for Roy, as he now appears a lot less grubby and slobby and this seems to have been noticed by many of the occupants of the upper floors, who now treat him and Moss with a little more respect. Roy also seems to have become more attractive to the opposite sex and has been in much more romantic relationships with women than he has in the past.
(more ...)
IT NEWS


Yesterday's Jam is the first episode of the first series and hence is the first ever of The IT Crowd. The show introduces all the main characters of the show and sets a backbone for future episodes. Yesterday's Jam original aired on the 3rd of February 2006 on the UK TV channel, Channel 4.
(more ...)